An initiative for children launched by Bermudian "Lawn Mower Man" Rodney Smith Jr. landed him on the couch of American talk show host Kelly Clarkson.
Now living in Huntsville, Alabama, Mr. Smith, 29, first hit the headlines in 2015 when he performed a random act of kindness by mowing an elderly neighbour's lawn for free.
Since then his one-man mission to provide free lawn care to the elderly, disabled, single moms and veterans has become a vocation, turning him into a nationally known figure in the US.
His charitable Raising Men Lawn Care Service travels throughout the US, offering free lawn care to those in need, and he has now mowed lawn in all 50 states a total of five times.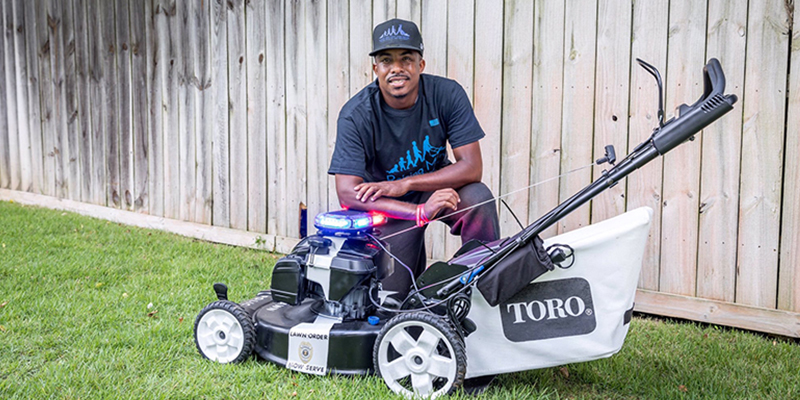 And recently he launched a new programme for youngsters called "The 50-Lawn Challenge."
When children take up Mr. Smith's challenge to mow 50 lawns in their neighborhoods for free, his foundation sends them a T-shirt, dark glasses and ear protection for the job.
They can also work their way up to receiving a mower and weed trimmer for free from the young Bermudian philanthropist.
First season American Idol winner Kelly Clarkson was moved to tears when Mr. Smith discussed his children's programme on her recently launched daily TV talk show on Tuesday [Oct 15].
"I'm just trying to encourage kids to get out there and make a difference one lawan at a time and give back to their community," Mr. Smith told the American singer/songwriter. "In this day and age a lot of kids are inside playing video games."
Actor, director and producer Tyler Perry, another guest on the show, had high praise for Mr. Smith's work.
"I think it's incredible," he said. "The good that you do comes back to you … So when it comes back to you and into your life, be open to it.
"And with what you're doing, expect to come back to you. What you're doing, I think it's wonderful."
Comments
comments