Bermuda is just a short hop away from the Northeast United States, a mere two hours flying time away.
There is direct flight service to/from Bermuda destinations in England, Canada and the United States, with airports serving the island include Air Canada, American Airlines, British Airways, United Airlines, Delta Airlines, JetBlue, AirTran, WestJet and US Airways.
L.F. Wade International Airport is the sole airport serving Bermuda, and is is located in St. George's. Bermuda does not have its own airline service, however we do have a company offering private jet for charters, and our airport is accustomed to handling incoming private jets.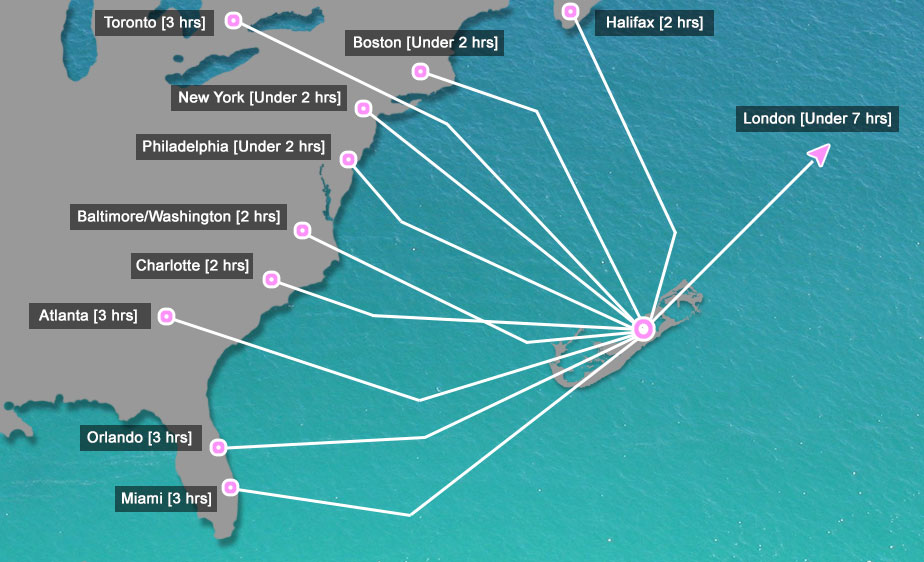 Discounting private jets, our airport services around 20 flights a day [both inbound and outbound] with direct flights available to and from Atlanta, Boston, London [UK], Miami, New York, New Jersey, Philadelphia, and Toronto, Canada.
The airport offers U.S. Customs and Immigration pre-clearance, which means U.S.-bound passengers have the luxury of clearing Customs in Bermuda. Flights arriving in the U.S. from Bermuda are treated as domestic flights, allowing passengers to avoid the long lines international arrivals often have.
While not a massive airport like you may find in major U.S. cities, Bermuda's airport does offer an array of amenities including food vendors; a smokers lounge; wi-fi; an Executive Lounge for First Class passengers,; stores for Duty Free, souvenir, and other shopping needs; taxis waiting outside and more.
Once you arrive in Bermuda, you'll find yourself with quick and easy access to a wide variety of accommodations, including hotels, guest houses, full-sized vacation homes, and even private islands.
After you find yourself settled in, prepare to immerse yourself in the many unique things to do in Bermuda, with everything from marine activities like scuba driving, watersports and boating, and fishing, to some of the finest golf courses in the world available to you throughout the duration of your stay with us. Click here to learn more about the many things to do in Bermuda.
Comments
comments