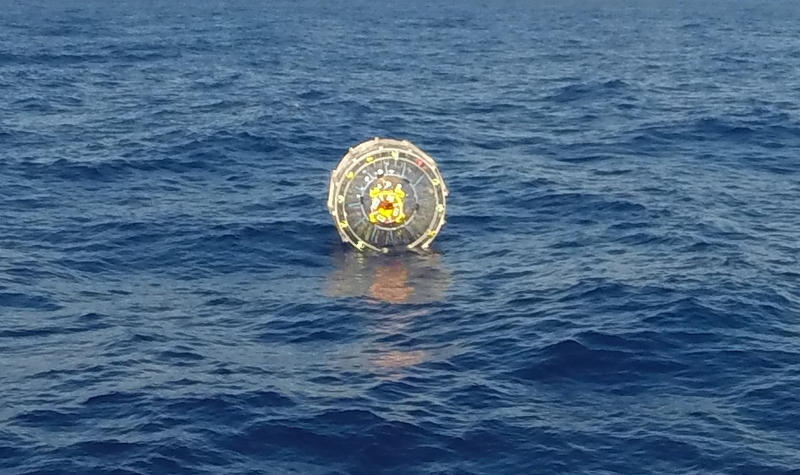 While attempting to travel to Bermuda by "zorbing" over 1,000 miles through the high seas in an inflatable plastic bubble may not be the most successful method, it has been attempted!
Reza Baluchi's ambitious attempt to travel from Miami to Bermuda in a bubble ended on October 4th, 2014 when the adventurer was found 70 miles off the coast of Florida, floating in the bubble, disoriented and asking for directions to Bermuda.
The inflatable Hydro Pod bubble is made of 3mm-thick plastic, and is powered by the person running inside it, similar to a hamster on a wheel.
Mr. Baluchi set out for the 1,033 mile journey with his bubble stocked with protein bars, bottled water, a GPS and a satellite phone. He planned to catch fish to sustain himself on the journey, run during the day, and spend his nights sleeping on a hammock inside the bubble.
In their statement describing the rescue, the Coast Guard said, "A man was rescued from his hydro pod bubble 70 nautical miles east of St. Augustine, Florida, by a Coast Guard search-and-rescue crew from Air Station Clearwater Saturday morning.
"Watchstanders at the Coast Guard 7th District command center received a report of Reza Baluchi, a U.S. citizen, floating in an inflatable bubble Wednesday. Baluchi was reportedly disoriented and asking for directions to Bermuda," the statement added.
Two days before he was rescued, Coast Guard Captain Todd Coggeshall made telephone contact with Mr Baluchi to warn him of the dangers of traveling to Bermuda in a bubble.
Captain Coggeshall informed Mr. Baluchi he had "grave concerns" about the "human powered travel from Miami to Bermuda in the Hydro Pod."
Despite the warning that he was "putting himself in grave danger on the high seas," Mr Baluchi opted to press on, explaining to the Coast Guard that he had been practicing for two years.
The Coast Guard didn't share Mr. Baluchi's confidence that he would successfully complete the 1,033 mile journey, so continued to monitor his movements.
The scenario came to a close when the bubble traveler activated his location beacon on Saturday, and the Coast Guard responded, with the fatigued zorber being hoisted out of the water by a helicopter crew.
The attempted journey by Mr. Baluchi, who was granted asylum in the United States in 2003 after being arrested in Iran for so-called pro-Western activities, has made headlines worldwide.
Numerous international media outlets have reported on his failed attempt to zorb to Bermuda, including USA Today, The Independent, The Guardian, CNN, ABC News, NBC News, and Sky News.
If you are also interested in traveling to Bermuda, click here for information on less adventurous methods to travel to, and within, Bermuda.
Comments
comments