A luxury property in Palm Beach billed as having "Bermuda-style architecture" is for sale at $61.5 million, with the Florida property boasting two waterfronts, seven-bedrooms, 14-bathrooms, a theater, infinity pool, spa, four-car garage, guest house and more.
The Palm Beach Daily News said, "The short list of the most expensive houses for sale in Palm Beach just got a little longer, thanks to a $61.5 million addition to the local multiple listing service.
"On Billionaires Row, the ocean-to-lake estate at 1900 S. Ocean Blvd. is finishing up construction with nearly 30,000 square feet of living space, inside and out. The estate comprises almost 2 acres, with 200 feet of oceanfront directly across the coastal road and 180 feet of lakefront on its west side.
"Keith Frankel, who heads VitaQuest International, and his wife, Tammy, built the never-lived-in house, which was briefly on the market in 2014 at a pre-construction price of $65 million.
"Keith Frankel is president and CEO of VitaQuest International, a manufacturer of vitamins and nutritional supplements. Based in West Caldwell, N.J., the company was founded by his parents.
"The Frankel house's Colonial Bermuda-style architecture also is a prime selling point, Dewing said, adding that the style has become popular with today's buyers in a range of price ranges."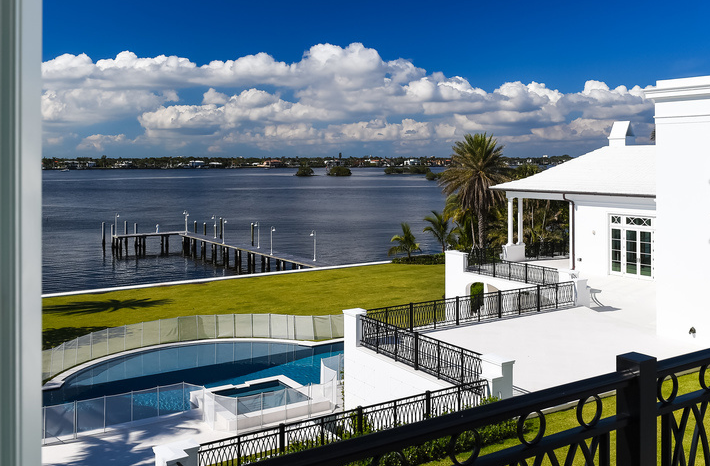 The house boasts two waterfronts, according to MansionGlobal.com. Sitting on nearly two acres of land, the property includes 200 feet of Palm Beach's famed Atlantic beach, and 180 feet of Lake Worth's shore.
The seven-bedroom, 14-bathroom [eight full, six half] house features a theater, infinity pool, spa, four-car garage and a guest house. It also has a separate three-bedroom guest wing with its own living area and elevator access.
MansionGlobal also cite Mark Marsh, architect of the property, as saying that although the couple decided not to move into the house, "it was built with their affinity for the Bermudian style in mind."
Comments
comments