The 2014 Bermuda Beach Art Festival — an island-wide sand art competition — provides a unique opportunity to see some beautiful creative beach art set on the island's world famous beaches.
With each participating artist encouraged to treat the island's distinctive pink sands as their personal canvas, the creations that temporarily grace our beaches during the competition range from depictions of animal life to a exquisite designs and abstract representations, giving visitors an array of visually stimulating works of art to behold before the tide comes in to wash them away.
Beach art created by international guest artist Andre Amador on Horseshoe Bay: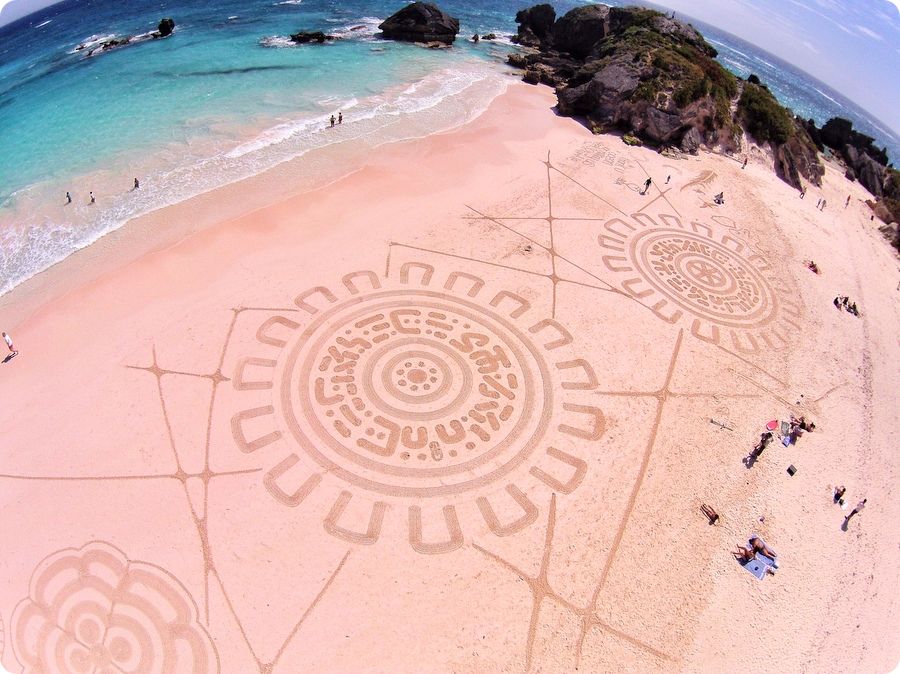 During the 2014 Bermuda Beach Art Festival, La Garza [Tara Cassidy & Natalie Sannemalm] won the Best Overall for "Herons' Flight" on Horseshoe Bay, and Adrianna Anfossi's "Circle Design" on Coral Beach earned the win in the Teenage Division.
The Family Division was won by the Hastings Family for their "Kissing Fish" design on Jobson's Cove, while Team Sandy Cheeks won the Adult Division with their "Waves" entry on Elbow Beach.
Bermuda is known for many things, but perhaps none more so than our famous pink sand beaches surrounded by crystal clear waters, with the annual Beach Art Festival only one of many events which take place upon them each year.
A result of tiny organisms known as red form, combined with the billions of particles of broken coral and shells that have become part of the landscape itself, these pink beaches are a major draw for those looking to take in natural beauty even as they enjoy the sun and surf.
Being a subtropical island, Bermuda has many beautiful beaches to choose from, many offering services such as active life guards, diving, snorkeling, and even food and drink.
The Bermuda Beach Art Festival is an annual event, and normally held in early summer.
Comments
comments